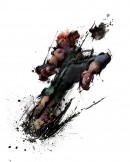 This image of game character Akuma has been made for the promotion of Street Fighter IV. The Japanese brush art style is characteristic for the entire art direction of the Street Fighter IV game and is used both in-game as well as for the promotional imagery.

This Street Fighter IV print is hand-numbered and embossed with the Capcom logo. The Certificate of Authenticity for this print is signed by Street Fighter IV's Executive Producer Yoshinori Ono.

The size displayed is that of the paper. The print has been made to fit most standard frames.