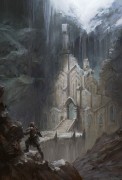 'Snow Elf Temple' is official concept artwork used by Bethesda Game Studios for The Elder Scrolls V: Skyrim. This limited edition Certified Art Giclee™ print is part of the official The Elder Scrolls V: Skyrim fine art collection by Cook & Becker and Bethesda Softworks. The print is hand-numbered and comes with a Certificate of Authenticity.

Temple of the mythical Snow Elves, a once blossoming culture that mysteriously disappeared yet left enough cultural artifacts in the province of Skyrim to prove their existence.

The Elder Scrolls V: Skyrim is a video game developed by Bethesda Game Studios and published by Bethesda Softworks November 2011. It is the fifth main installment in the ongoing The Elder Scrolls series.