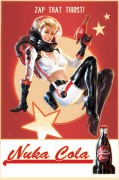 'Nuka Cola' is official concept artwork used by Bethesda Game Studio's for
Fallout 4
. The image was made by Senior Concept Artist John Gravato. This limited edition Certified Art Giclee™ print is part of the official
Fallout 4
fine art collection by Cook & Becker and Bethesda Softworks. The print is hand-numbered and comes with a Certificate of Authenticity signed by the artist.
Fallout
players know their Nuka Cola. The popular soft drink is everywhere in the games. Transport trucks stacked with crates sit idle on roads, their drivers presumably victims of the nuclear armageddon that befell the Commonwealth. Advertisements for 'that refreshing burst of atomic energy' adorn buildings all around, and the 'Nuka World' theme park reminds us of the brand's pre-Great War marketing power.
This image (
one of two Nuka Cola ads on sale
), made by Bethesda Senior Concept Artist John Gravato, combines a couple of marketing trends from the 1940's and 1950's into a great, retro-futuristic whole. It features a classical 1940's pin-up girl, dressed up in a 1950's Space Age outfit. The 'handwritten' typography and general composition are typical of soft drink advertisements of that time, but the familiarity of the image is set off by the rocket shape of the cola bottle and the girl holding a sci-fi gun. It's a parody of sorts, and a strong symbol for the optimism of the pre-Great War Commonwealth.
Fallout 4
is the fifth installment in the
Fallout
video game series. The games are characterized by their inventive take on post-apocalyptic science fiction. Developed by Bethesda Game Studios, they pit players against the hazards of a vast nuclear wasteland. The game world is defined by 1950's 'Space Age' aesthetics, generating a strong retro-futuristic feel that sets
Fallout
apart from other sci-fi games.