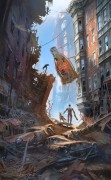 'Street Scene Downtown' is an official concept artwork used by Bethesda Game Studio's for Fallout 4. The image was made by Senior Concept Artist Ray Lederer. This limited edition Certified Art Giclee™ print is part of the official Fallout 4 fine art collection by Cook & Becker and Bethesda Softworks. The print is hand-numbered and comes with a Certificate of Authenticity signed by the artist.

The Sole Survivor explores a downtown area that's completely in shambles. "I know the composition (of the image) is a little weird", says Ray Lederer, the artist responsible for this strong concept art piece, on his personal blog. "It's a bit of the standard movie poster composition", he goes on, explaining why he designed the scene the way he did. Sure, the Sole Survivor and his dog are out to explore, but there is an element of threat too, of impending disaster, that is a direct result of design choices. The buildings left and right loom over the human character – quite literally, as the buildings are tilting towards the centre of the image. In this sense, the image is part of a larger artistic tradition than mere movie posters: romantic painters like Caspar David Friedrich (1774-1840) scaled down human figures in favour of the expansive scenes around them, to imbue a sense of human frailty in viewers. Elements like the big crow (centre left) or the human skull (lower left corner) are further memento's to human vulnerability.

Fallout 4 is the fifth installment in the Fallout video game series. The games are characterized by their inventive take on post-apocalyptic science fiction. Developed by Bethesda Game Studios, they pit players against the hazards of a vast nuclear wasteland. The game world is defined by 1950's 'Space Age' aesthetics, generating a strong retro-futuristic feel that sets Fallout apart from other sci-fi games.