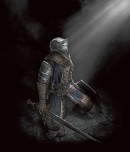 This strong, conceptual artwork by FromSoftware came to the attention of more people than just Dark Souls players by way of EDGE magazine, who used the 'Elite Knight' image as cover art (April, 2011). Its visibility inadvertently led many to assume the Elite Knight armour is the 'signature' armour for Dark Souls. Most of the internet now agrees the knight depicted is Oscar, Knight of Astora, the first NPC the player meets in the game – a fact as yet unconfirmed by FromSoftware. The knight's posture and dramatic lighting suggests inspiration by painters that came before the artists at the Japanese studio, notably pre-Raphaelite painters like Frank Dicksee, or Arthur Hughes, who helped popularize the medieval knight as dramatic hero.

'Elite Knight' is an official concept artwork for Dark Souls, the first video game in the Dark Souls series, made by Japanese studio FromSoftware. This limited edition Certified Art Giclee™ print is part of the official Dark Souls fine art collection by Cook & Becker, FromSoftware, and Bandai Namco. The print is hand-numbered and comes with a Certificate of Authenticity.

Dark Souls is an action role-playing video game developed by FromSoftware and published by Bandai Namco. Dark Souls was first released Fall 2011, as successor to the acclaimed game Demon's Souls. The games, directed by Hidetaka Miyazaki, have been some of the most influential of the last decade. Both Dark Souls and it's spiritual predecessor started out as sleeper hits. At first, the games received notoriety for their challenging difficulty, yet that merely touched the surface of their appeal. Gamers found themselves enchanted by the deep lore, the inventive level design and the lack of hand-holding. This at a time when many were disenchanted by too many slick, easy and unrewarding blockbuster games. Dark Souls was different, they felt, and captured what made role-playing games so great.

The Dark Souls games, of which there are three, have spawned a huge, dedicated following that shares thousands of YouTube videos and forum posts, covering every minute detail. They have also opened the eyes of many game developers, showing another way of doing things.