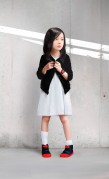 Mirror's Edge Catalyst zooms in on Faith's family history, reminding us about the faithful events that befell her as a seven year old girl: a peaceful protest against corporate encroachment escalated into bloody riots, resulting in the death of Faith's family. EA DICE senior concept artist Per Haagensen concepted and painted young Faith with all her character traits in place: inspired and strong, yet anxious about what her future in Mirror's Edge Catalyst will bring.
This limited-edition concept art print is part of the official Mirror's Edge Catalyst print collection by Cook & Becker and DICE.
Mirror's Edge Catalyst is an action-adventure video game developed by EA DICE in Stockholm, Sweden, and was published June 2016 by Electronic Arts. The game is a reboot of 2008's
Mirror's Edge
, a game that was groundbreaking for its unique art direction and because it was the first game to convincingly give players an acute physical sense of their virtual body within a virtual environment. In Mirror's Edge Catalyst its female protagonist 'Runner' Faith Connors gets drawn into a struggle with a totalitarian conglomerate.