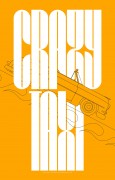 Crazy Taxi is a limited edition giclee print drawn by designer, ad man and car aficionado Dan Clarke (Arkotype) based on the classic SEGA game Crazy Taxi™. This is an officially licensed SEGA art print.
Arkotype
is known for his prints with a thoughtful and graphical approach to classic video games. He says about his Crazy Taxi design: "Crazy Taxi was one of my favourite arcade games, and I put an obscene amount of time into it once it arrived on Dreamcast. For this design I've aimed for a clean and graphic aesthetic balanced with some of the 'frantic excitement' that the game evokes."
When you purchase this Certified Art Giclee unframed, the paper size is 24 x 36" or 60 x 90 cm with a small white border so that it fits affordable standard frames available anywhere in the world. For the Dibond mounted finish we trim the white edges so the final size of the artwork is 22 x 34" / 55 x 85 cm.
About this project
Cook & Becker has asked some of the hottest artists and designers working in entertainment and video games if they want to create a print of their favorite retro SEGA games. These beautiful prints are meant to capture the heart of these classic video games and what they meant for the artists and people playing and growing up with them.
Cook & Becker together with SEGA will continue to release new giclee prints in the coming years.