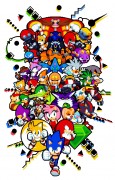 Sonic the Hedgehog
is an official limited edition print of Sonic drawn by artist
Paul Veer
based on SEGA's best known video game series and mascot Sonic the Hedgehog™. Paul Veer made this pixel art print for Cook & Becker and SEGA with guidance from Team Sonic.
When you purchase this Certified Art Giclee unframed the paper size is 24 x 36" or 60 x 90 cm with a small white border so that it fits affordable standard frames available anywhere in the world. For the Dibond mounted finish we trim the white edges so the final size of the artwork is 22 x 34" / 55 x 85 cm.
About this project
Cook & Becker asked some of the hottest artists and designers working in entertainment and video games today if they wanted to draw a print of their favorite retro SEGA video games, like Sonic. The idea was to create a series of beautiful prints that would capture the heart of these classic brands and what they meant for the artists and people playing and growing up with them.
Pixel artist Paul Veer says about his Sonic the Hedgehog artwork: "The Sonic franchise as a whole has always had a huge influence on my personal art style, so getting to do an official print with SEGA was an honour and a dream come true. With that in mind, I wanted to do the entire series justice by including lots of characters from past and present Sonic games. "
Going forward Cook & Becker will work with SEGA to periodically release new giclee prints from a variety of SEGA games.