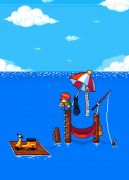 The
Blue Skies
retro-esthetics of
Ocean Scrapbook
are typical of pixel art made by Paul Veer.
Ocean Scrapbook
is the visual blueprint of a game he hopes to make one day. The vivid colours and a careful placing of each pixel in this eye popping print show Veer's mastery of this art form and technique.
Pixel art by Paul Veer is now available in museum-quality giclée prints exclusively at Cook & Becker. Paul is known for his pixel artwork for game studio Vlambeer.