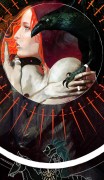 Queen of Swords is video game concept art for Dragon Age Inquisition. The image shows Leliana, one of the major characters from video game series Dragon Age. This digital illustration has been made by BioWare concept artist Casper Konefal for a set expressive and painterly Tarot-like cards in the game Dragon Age Inquisition. These cards depict the mythology and lore of the Dragon Age universe. This original fine art print is a hand-numbered limited-edition and artist-signed via label.

Matt Rhodes, lead concept artist of Dragon Age Inquisition says about artist Casper Konefal: "Casper is an anomaly to me. He's some kind of wizard. In all the years of working with him, I've never been anything but surprised and delighted when I see his work. Each element is carefully considered, layered with meaning, referencing sources I never could have imagined, and coming together in its own elegant way. If the concept art of Inquisition was a stew, the team would be the meat and potatoes, Casper would be the salt. He gives the whole thing flavor."

Video game Dragon Age Inquisition (2014) is the third major game in the high-fantasy series Dragon Age by studio BioWare. BioWare is known for their deep and wide role-playing games. The studio innovates with the invention of interesting and complex characters that as the same time keep representing archetypes that players expect in an RPG.