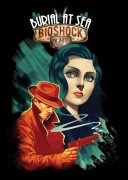 This Burial at Sea print is part of the official BioShock Infinite art collection. This limited-edition original digital art giclee is signed by BioShock's creator and one of the founders of Irrational Games, Ken Levine and hand-numbered. Burial at Sea is the first expansion for the game BioShock Infinite and takes the player back to Rapture, the dark underwater city where the BioShock series began.

"A literary endeavor for the multimedia age" said The New York Times in an article about the critically acclaimed BioShock Infinite game. Much like the original BioShock, Infinite is that rare thing in the modern games industry: a mainstream work of art crafted by a huge team of very talented people but still carrying the clear signature of an auteur. In this case that of creative director Ken Levine.

Levine's broad interests in subjects as varied as American history, pop culture and recent events like the 'Occupy' movement have shaped BioShock Infinite. Unusual for a Triple A blockbuster production the game intelligently explores themes like historic revisionism, racism, politics and religion elegantly wrapped in a form that gives strength to meaning: a violent shooter adventure.