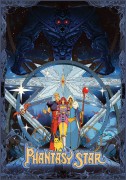 Phantasy Star is an official limited edition print drawn by Kilian Eng (DW Design) based on the classic SEGA game series Phantasy Star™. Kilian Eng made this print under direction of Cook & Becker and SEGA using the original games' designs, logo's etc. from the SEGA archives as inspiration.

When you purchase this Certified Art Giclee unframed the paper size is 24 x 36" or 60 x 90 cm with a small white border so that it fits affordable standard frames available anywhere in the world. For the Dibond mounted finish we trim the white edges so the final size of the artwork is 22 x 34" / 55 x 85 cm.

About this project
Cook & Becker asked some of the hottest artists and designers working in entertainment and video games today if they wanted to draw a print of their favorite retro SEGA games. The idea was to create a series of beautiful prints that would capture the heart of these classic brands and what they meant for the artists and people playing and growing up with them.

Artist Kilian Eng says about his Phantasy Star artwork: "When I learned about this project I thought it would be a fantastic to get the opportunity to work on Phantasy Star. I remember several older SEGA games fondly, but Phantasy Star was my first pick. It was really fun digging into the Phantasy Star universe again after so many years I last played it. It is a really good game with a lot of nostalgic value for me."

Going forward Cook & Becker will work with SEGA to periodically release new giclee prints from a variety of SEGA games.